The home of members of the politically powerful Luna family, the Tranquilino Luna House was constructed in the early 1880's. This house is probably the best example of an extant adobe Victorian residence in New Mexico and has retained most of its original design. Tranquilino Luna, son of merchant-farmer Jos£ Antonio Luna and his wife Isabel Baca, was a direct descendant of Domingo de Luna who settled in the Los Lunas area shortly after the Reconquest of New Mexico in 1693 by General Diego de Vargas Zapata Lujcin Ponce de Le6n. Born in Los Lunas on February
25, 1849, Tranquilino attended public schools and was graduated from the University of Missouri at Columbia. Politically and commercially active, he engaged extensively in stock raising and was delegate to the Republican National Conventions in 1880 and 1888. Elected as a Republican Delegate from the Territory of New Mexico to the Forty-seventh Congress (March 4, 1881- March 3, 1883), he also presented credentials as a Delegate-elect to the Forty-eighth Congress and served from March 4, 1883 until March 5, 1884, when he was succeeded by Francisco A. Manzanares who contested his election.
Tranquilino also held the office of sheriff of Valencia County from 1888 until his death on November 20, 1892. He was survived by his wife, Amalia Jaramillo and a son, Maximiliano, who as captain of Troop F, 1st U.S. Volunteer Cavalry, served in the Spanish-American War and later drowned in November of 1899 while serving in the Philippine Islands.
The Lunas, Oteros and Chaveses were the three most influential and politically powerful families of the Rio Abajo (lower river) region during the Mexican and Territorial periods. In addition to Tranquilino, the family also included Solomon, Jesus Maria, Luz and Eloisa. His famous brother Solomon, also a wealthy sheep raiser and president of the Bank of Commerce in Albuquerque, held various important political offices including that of Valencia County probate clerk in 1885, sheriff in 1892 and treasurer in 1894.
He was also delegate to the Constitutional Convention of 1910 and from 1896 until his death in 1912 was a member of the National Republican Committee. Jesus Maria was a captain in the New Mexico militia, an Indian fighter and politician. Luz married Jose" Maria Romero and little else is known about her. In 1879, Eloisa, the youngest daughter, married Manuel B. Otero thus uniting the Otero and Luna families into an even more powerful alliance.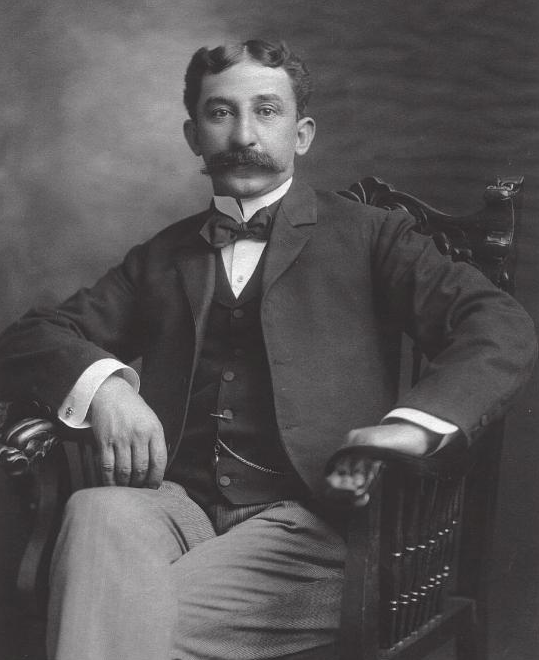 However, this marriage was short-lived since in the summer of 1883 at Estancia Springs, Otero was shot and killed by James G. Whitney over a land grant dispute. Three years after her husband's death, Eloisa married leading citizen, merchant and later clerk for the district court, Alfred M. Bergere.
The Bergeres moved to Santa Fe where their home became the center of manysocial events held in the capital city. Although Tranquilino and his wife constructed this ten-room adobe house
early in the 1880 's, the first recorded mention of the structure does not appear until April 21, 1885 in a deed of conveyance from Tranquilino to his wife. On August 15, 1887, Tranquilino and Amalia transferred the deed to the property to William B. Childers as trustee. Two years later, Childers sold the Luna residence to Solomon who owned most of the adjoining property and he, in turn, placed the property in his wife's name on July 15, 1893.
The latter, Adelaida Otero de Luna, was the daughter of Manuel Rito Otero and the granddaughter of Judge Antonio Jose" Otero who in 1846 had been appointed by Brigadier-General Stephen Watts Kearny as justice to the first New Mexico territorial supreme court.
There is no evidence, however, that the Solomon Lunas, who were childless, actually utilized the house as their residence. Solomon was found dead at one of his sheep camps on August 30, 1912 after he apparently had suffered a heart attack and fallen into a sheep dipping vat. Five years later, on June 28, 1917, Adelaida conveyed the house and land to their nephew and heir, Eduardo M. Otero. Eduardo, a prominent sheep raiser in the Los Lunas area, was the son of Manuel B. Otero and Eloisa.